The Creature Calamity Club, also abbreviated as "CCC," is a RPG game thread on Muppet Central Forum, where creatures live in a city called Monstropolis. Despite its name, Monstropolis has banned all monsters from living there, forcing monsters to live disguised as humans.
The game was created by members, Sgt. Floyd, Lola p, and Hubert. The CCC thread was created by The Count. The thread is sometimes described as Twilight with more likable characters, or as a very strange Danny Phantom-Final Fantasy crossover.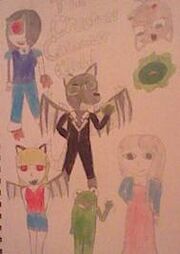 The official thread was created June 22, 2012. By December of 2012, the thread already had over 1500 pages. 
For the first few months, the game focused on battles and constant attacks from their enemies, the scientists. Since then, the game has shifted focus to the everyday lives of monsters just trying to live normal lives in a world that hates them. Ever since the start of the school season, the CCC has turned into what is unnoficially called the "Sarge and Yuna" thread, as they are the only ones who have time to post.
The CCC originated from two threads. Being a supernatural creature started when Sgt Floyd made a joke post in a thread about how she was Eddie Riggs, a half demon, from the video game Brutal Legend. This lead to a recurring joke that not only was she a demon, but also had the ability to change genders. This started getting out of hand in threads, and The Banter Thread was born. Eventually, Lola p, Hubert, and Yuna Leonhart joined in. The "bantering" about being supernatural creatures eventually escalated into role play like actions. Eventually, it was decided to start an official role play thread.
The CCC ended on Jun 30, 2013 after multiple members left.
Note: Some "current members" may be innactive, however they have not officially quit. Previous members are those who have offcially left for one reason or another.
Previous members
Edit
| User | In Game Name | Species |
| --- | --- | --- |
| Bananasketch | Logan | Yeti (werewolf hybrid) |
| Meepmuppaphones | Meepo | Snake Demon |
| Vincent Liu | Vincent | Shapeshifter |
Member Pictures
Edit
External links
Edit
Ad blocker interference detected!
Wikia is a free-to-use site that makes money from advertising. We have a modified experience for viewers using ad blockers

Wikia is not accessible if you've made further modifications. Remove the custom ad blocker rule(s) and the page will load as expected.