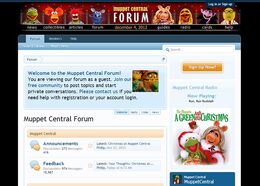 Muppet Central also has a forum section for fans around the world. It's based on the XenForo forum software. Philip, the creator of Muppet Central, admins the forum.
Muppet Central
Edit
Announcements: Read about site updates, news, and fan activities at Muppet Central.
Feedback: Give us your feedback on all areas of Muppet Central
The Walt Disney Company
Edit
Muppet Headlines: Discuss the latest Muppet news stories and current productions
Muppet Appearances: Find out when classic Muppet characters will be on TV or making a local appearance.
Classic Muppets: From The Muppet Show to the movies, discuss the Muppet characters.
Muppet Merchandise: Join discussions about Muppet collectibles and all aspects of collecting.
Muppet Replicas: Talk about the thrill of owning your own Muppet Photo Puppet.
Action Figures: Read discussions on Palisades retired line of Muppet figures and playsets.
Muppet Babies: They'll make your dreams come true! Talk about the Muppet Babies animated series.
Bear in the Big Blue House: Discuss Bear and all his friends in the Big Blue House. Cha Cha Cha!
The Jim Henson Company
Edit
Fraggle Rock: Dance your cares away reading all about Fraggles, Doozers, and Gorgs.
Family Worlds: From Sid the Science Kid to Emmet Otter, discuss your favorite Henson family programs.
Fantasy Worlds: Whether the Dark Crystal or Farscape, share your thoughts on Henson's fantasy and Sci-Fi productions.
Henson Alternative: From Puppet Inprov to Tinseltown, discuss the various Henson Alternative projects.
Henson People: Join the discussions about Henson puppeteers and employees, past and present.
Sesame Workshop
Edit
Sesame Street: Discuss today's Sesame Street for the current generation.
Sesame Appearances: Find out when the Sesame Street cast will be on TV or making a local appearance.
Classic Sesame Street: Talk about the Street you remember from the 70's, 80's and 90's.
Sesame Street Merchandise: From the 70's to today, talk about your favorite Sesame collectibles.
Sesame Worlds: From International Sesame to their children's programs, discuss Sesame Workshop shows.
On the Web: Find out about the latest fan site updates from around the Web.
Buy, Sell and Trade: From eBay to your collection, sell and trade merchandise. Whatever you need, we'll try to help.
Friends and Family: Get to know other fans in our Muppet Central family.
Fan Fiction and Fan Art: Share your Muppet scripts, fan art and stories.
Games: Play on-line games with Muppet fans worldwide.
General Discussion: From current events to computers and sports, discuss whatever is on your mind with other fans.
Puppet News: Learn about puppet-related happenings and events whether on TV, YouTube or your local neighborhood.
Puppet Building and Performing: From fur to fabric, discuss puppet building, character design and all aspects of performance.
Puppets For Sale: Sell professional puppets and share puppet eBay links.
Forum upgrade
Edit
On May 31, 2011, the forum upgraded from the vBulletin to the XenForo system.
Ad blocker interference detected!
Wikia is a free-to-use site that makes money from advertising. We have a modified experience for viewers using ad blockers

Wikia is not accessible if you've made further modifications. Remove the custom ad blocker rule(s) and the page will load as expected.