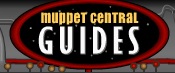 The Guides section of Muppet Central contains full episode guides for seasons 1 and 2 and pilot episodes of The Muppet Show and has a number of quizzes to test your Muppet knowledge. Though guides and quizzes are still available for use, no new content is being added to it.
Ad blocker interference detected!
Wikia is a free-to-use site that makes money from advertising. We have a modified experience for viewers using ad blockers

Wikia is not accessible if you've made further modifications. Remove the custom ad blocker rule(s) and the page will load as expected.