Mo Frackle
Well-Known Member
Nickname
Mo
Gender
Male
Favorite production
The Muppet Movie
Favorite character
All of them
Join date
June 4, 2011
Wikia name
Mo Frackle
Profile link
link
Biography: Mo Frackle joined Muppet Central on  June 4, 2011. He's largely been involved in keeping one of his favorite threads, "I think I'm going crazy!!!!@@!@" (sic) alive. He's referred to the "crazy" thread (as it's often nicknamed by MC members) as "The only thread where you can actually get away with countless muffining".
His username derived from a seldom seen Muppet by the same name. His reason? "I wanted people to know that I wasn't an Average Joe who just found out who the Muppets were. They've always been a part of my life. To prove that, I decided to use the most obscure Muppet that came to mind as a username".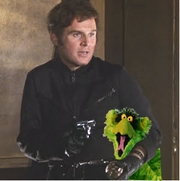 He loves all of the Muppets, and therefore finds it hard to choose a favorite. "My interest in the characters themselves has actually led me to practice writing as those characters. It's a nice way to really dig deeper into the Muppet's personalities, and what makes them tic. I often practice on the 'The Weekly Survey' thread. It's nice to try something a little different over there. Besides, if I answered a survey as myself, I doubt it would be that interesting".
He's also an aspiring puppeteer and graphic designer. As a 5'4 puppeteer, Mo once said, "It's interesting to puppeteer characters that are about the same height as you".
He currently (practically) resides in the Muppet Central Forums.
Ad blocker interference detected!
Wikia is a free-to-use site that makes money from advertising. We have a modified experience for viewers using ad blockers

Wikia is not accessible if you've made further modifications. Remove the custom ad blocker rule(s) and the page will load as expected.