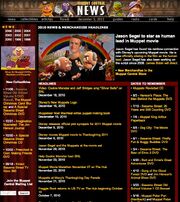 Muppet Central News was an active news source that listed all recent news in the Muppet world. Though news is still occasionally added there, it has been mostly inactive since the end of 2010.
Currently, news is added through the forums as a thread and displayed on the main page of the website.
Ad blocker interference detected!
Wikia is a free-to-use site that makes money from advertising. We have a modified experience for viewers using ad blockers

Wikia is not accessible if you've made further modifications. Remove the custom ad blocker rule(s) and the page will load as expected.