Piggy The Frog
Active Member
Real name
Genevieve Gagnier
Nickname
Piggy The Frog, Piggy, Gen
Gender
Female
Favorite production
The Muppets Take Manhattan
Favorite character
Miss Piggy
Join date
Sep 13, 2012
Wikia name
Piggy The Frog
Profile link
link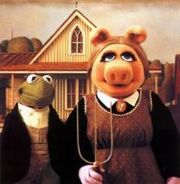 Piggy The Frog, or Genevieve, has only been a member of MC since September 2012, but has been a fan of the Muppets her entire life.
She believes that Miss Piggy and Kermit belong together, and her username reflects that.
Ad blocker interference detected!
Wikia is a free-to-use site that makes money from advertising. We have a modified experience for viewers using ad blockers

Wikia is not accessible if you've made further modifications. Remove the custom ad blocker rule(s) and the page will load as expected.