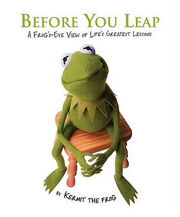 Long time Muppet Writer Jim Lewis has an interesting thread on the Muppet Central Forums. The "Ask Jim Lewis Thread" and "The Brand New Ask Jim Lewis Thread", were started by long-time Muppet Central user Dwayne1115 (Dwayne Fletcher). Another long-time Muppet Central member, theprawncracker (Ryan Dosier), was largely involved with the threads later on.
Both began when Jim started posting on Muppet Central. He talked about Before You Leap, a book that was written by Jim with the help of Kermit the Frog. Fans wanted to ask Jim several questions, to the point that it was a challenge to answer all of the questions at one time. A Question and Answer thread was developed. The thread was monitored by a forum member. Dwayne1115 contacted Jim, and through the next four years both Jim and Muppet fans would have some very interesting, and sometimes, touching Q & A sessions.
Ad blocker interference detected!
Wikia is a free-to-use site that makes money from advertising. We have a modified experience for viewers using ad blockers

Wikia is not accessible if you've made further modifications. Remove the custom ad blocker rule(s) and the page will load as expected.